TAMBO & BONES are trapped in a minstrel show. It's mad hard to feel like a real person when you're trapped in a minstrel show. Their escape plan: get out, get bank, get even. 
So, accept our invitation, if you will, to step from the heart of the crumbling Empire into an America at the epicentre of the global Black Lives Matter movement. 
Part distorted clown-show, part spectacular hip-hop concert, part absurdist Afro-futuristic lecture (with robots!), Tambo & Bones interrogates the commodification and commercialisation of Black pain in a satirical roller coaster of a show.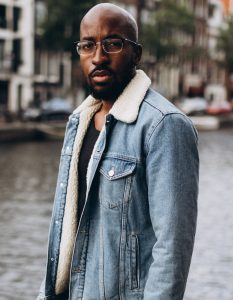 Dave Harris is a poet and playwright from West Philly. Selected plays include Tambo & Bones (Playwrights Horizons, Center Theatre Group, 2022), Exception to the Rule (Roundabout Theatre Company, 2022), Incendiary (Woolly Mammoth 2023) and Everybody Black (Humana Festival, 2019). His first feature film, Summertime premiered at the 2020 Sundance Film Festival. Dave is currently writing the feature adaptation of The Fortress of Solitude for Amazon, and an original television project at FX, ABC Studios and Goddard Textiles. Selected honours include the Ollie Award, The Lorraine Hansberry Award and Mark Twain Award from The Kennedy Center, The International Commendation for The Bruntwood Prize and a Cave Canem poetry fellowship, amongst others.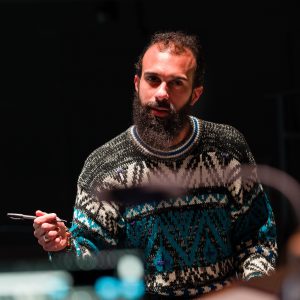 Matthew Xia is Artistic Director of Actors Touring Company where he has directed Amsterdam, Rice and the Alfred Fagon Award-winning play Family Tree. He is a former Associate Artistic Director of Royal Exchange Theatre, Manchester, Director in Residence at Liverpool Everyman & Playhouse and Associate Director of Theatre Royal Stratford East (where he started in the youth theatre in 1993!).   
Matthew's acclaimed productions include The Wiz (Hope Mill), Into the Woods, Frankenstein (Manchester Royal Exchange), Wish List (Royal Court), Blue/Orange, Sizwe Banzi is Dead (Young Vic), Shebeen, One Night in Miami (Nottingham Playhouse). Other work of note includes Blood Knot (Orange Tree), The Blacks, Sleeping Beauty (Theatre Royal Stratford East) and Suckerpunch Boomsuite (Barbican). At 19, Matthew became the first DJ to join BBC 1Xtra as hip-hop specialist DJ Excalibah. He has played most major festivals and clubs in the UK and Europe including Glastonbury, Ministry of Sound, and Fabric. Excalibah performed for a global audience of over 1 billion as a headline DJ at the London 2012 Paralympic Opening Ceremony. Matthew has worked with renowned writers as a director and dramaturg, including Joe Penhall, Arinzé  Kene, April De Angelis, Katherine Soper and Mojisola Adebayo. In 2019 Matthew was awarded an Honorary Doctorate from the University of the Arts London for "indefatigably working to make theatre universally accessible by working to promote minority groups as theatre leaders, makers and consumers." 
Actors Touring Company 
Actors Touring Company (ATC) is a portable portal to the world. Through our work, we connect global artistic voices to local communities.  
ATC is the UK's leading theatre producer of international plays. We create dialogue between Britain and the rest of the world – and between the intersecting cultures within nations.    
We are passionate about giving voice to the 'outsider within'. We create a dialogue between those deemed 'the other' and audiences in every UK region and beyond: from Scarborough to Hong Kong.