"Brilliantly written, fast-moving, poetic in its rhythms – inspiring and hard-hitting." 
Elementary WO
"One of the most important untold stories in history!" 
West End Best Friend
"Beautifully poetic … Adebayo's deft writing and the layered, nuanced performances allowed us to take solace in community and to look forward to a better future." ToDoList
Actors Touring Company and Belgrade Theatre Coventry, in association with Brixton House present FAMILY TREE. 
FAMILY TREE is a beautifully poetic drama about race, health, the environment, and the incredible legacy of one of the most influential Black women of modern times. Fearlessly honest, hilarious, and ultimately transformative, this award-winning play is both a remembrance and a celebration. 
Now FAMILY TREE will tour venues throughout the UK, in a brand-new ATC co-production with the Belgrade Theatre, Coventry and Brixton House. Audiences across the UK will have the chance to experience this award-winning play, between March and June 2023.
Henrietta Lacks is one of most remarkable people in medical history. Her cells form the basis of the most important medical research and breakthroughs happening today, from cancer to HIV, the Polio Vaccine, the Human Genome Project and even COVID.
But Henrietta never knew any of this. Her cells were taken without her or her family's knowledge or permission. 
Henrietta was a Black woman: she is not the only one whose body has been exploited by the medical establishment.  
Denied her place in history, now is the time for Henrietta's incredible legacy to undergo a transformation … to blossom and grow into something new and wonderful. 
This nationwide touring production is brought to you by playwright Mojisola Adebayo (Alfred Fagon Award winner for FAMILY TREE) and director Matthew Xia (Blue/Orange, The Wiz).
"Outspoken and magical … informs us with its history and move us with its personal stories." 
British Theatre Guide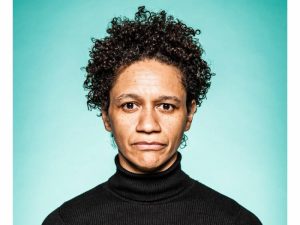 Mojisola Adebayo
(BA, MA, PhD, FRSL, FHEA) has been making theatre internationally for 30 years, from Antarctica to Zimbabwe. Plays includee Moj of the Antarctic: An African Odyssey (Lyric Hammersmith), 48 Minutes for Palestine (Ashtar Theatre, Ramallah), The Interrogation of Sandra Bland (Bush Theatre), Wind / Rush Generation(s) (National Theatre) and Nothello (Belgrade Theatre Coventry). Her book Black British Queer Plays and Practitioners: An Anthology of Afriquia Theatre (Bloomsbury Methuen), co-edited with Lynette Goddard, is out in October 2022. Mojisola is a Lecturer at Queen Mary, University of London, Associate Artist of Black Lives Black Words, AICRE, Pan Arts and the Building the Anti-Racist Classroom collective, is an Honorary Fellow of Rose Bruford College, is on a fellowship at University of Potsdam, Germany, commissioned by Counterpoint Arts and is a Writer-on-Attachment to the National Theatre (UK). Her play STARS (Tamasha / ICA) premieres at ICA London in April 2023, before a national tour. See mojisolaadebayo.co.uk for more.