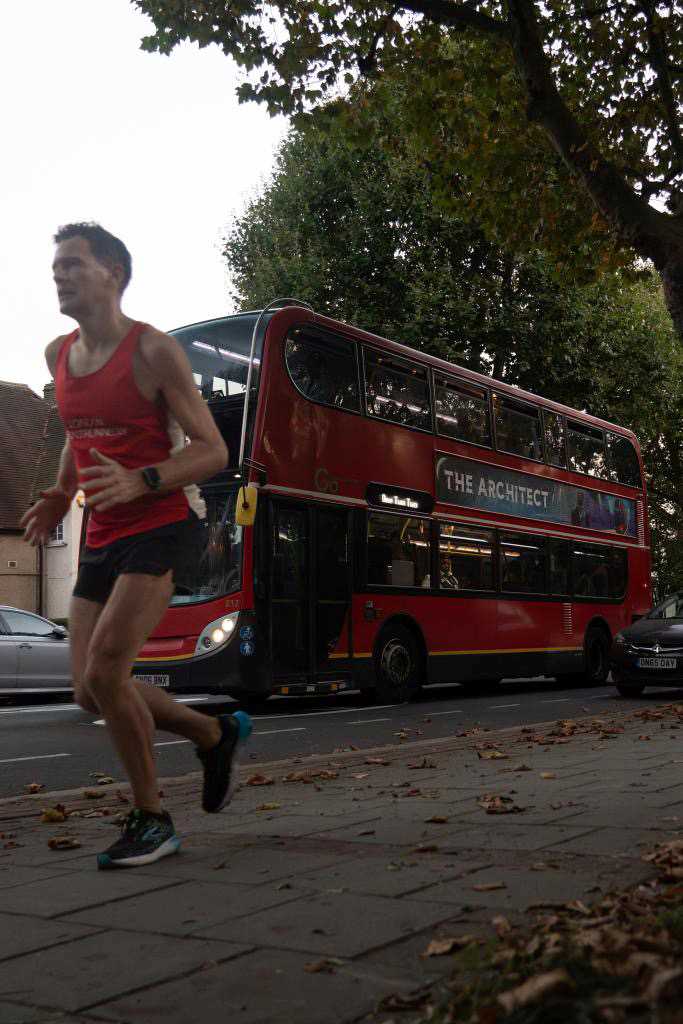 02 Nov

'RUNNING FOR STEPHEN' – THE STORY OF THE RUNNERS WHO JOINED THE MOVING PRODUCTION OF 'THE ARCHITECT'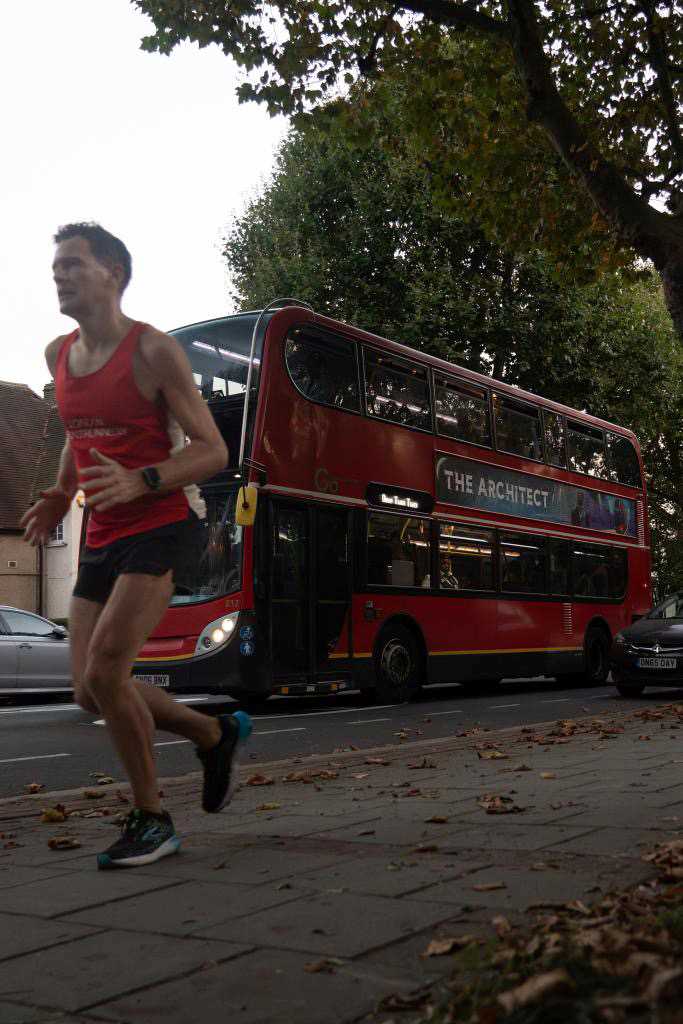 NOVEMBER 2023
By Assistant Producer Brad Hackett
The culmination of ATC's Transformation Season, 'The Architect' was an immersive theatrical experience on a moving Routemaster bus and a journey through the lives of Black Londoners – past, present and beyond – to commemorate the life of Stephen Lawrence.
At the moment in which audiences grapple with the tragedy most squarely in their minds – as we arrive at Stephen's memorial and the site of his murder – audiences are not alone but rather accompanied by runners, accompanying the bus's journey along Well Hall Road, like guardian angels, keeping us safe and ensuring we reach our destination.
The inclusion of the runners was initially conceived by playwright Mojisola Adebayo during R&D for the project in early 2023 – inspired by Stephen Lawrence having been an active member of local running club, The Cambridge Harriers.
Responding to the call to run in memory of Stephen and join our 'production within a production', we had an incredible response from runners and running clubs across London – and beyond.
Black Trail Runners, Black Girls Do Run, Emancipated Run Crew, Frontrunners UK, Good Gym, Run Higher Collective and the Cambridge Harriers, all volunteered to join us throughout the week of the performance in heatwave conditions, donning high visibility vests and running 400 metres uphill alongside a moving bus. There were certainly challenges! It was immensely difficult to spot our 'One Two Two'' bus as it looked exactly like a regular Routemaster and we had several false starts. Not to mention that on our rehearsal journey, the bus left the runners behind in the dust!
However, by opening night, both bus and runners were comfortably keeping pace with each other, in a kind of beautiful harmony.
As Assistant Producer, one of my main jobs was to help recruit, liaise and manage the runners, together with our awesome Creative Producer Jade Samuels. But on the last night, I was able to join everyone else running – and I can say that when running alongside a bus, it certainly goes a lot faster than you think!
I spoke with some of the runners, to ask them why they'd wanted to take part and what they felt they got from the experience.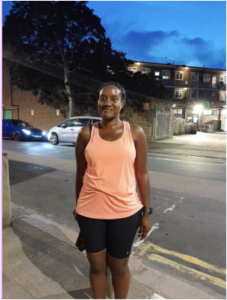 Angela T from Black Trail Runners (see picture) ran because she felt that "this is such an important cause to keep people aware of. We can make intentional actions and make things better for everyone else."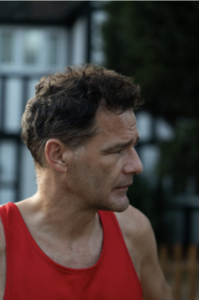 Matt from Frontrunners (a global LGBTQ+ running group) had lived in Eltham for 17 years. He observed that, "Like anyone who has lived in Eltham we're acutely conscious of the horrible murder of Stephen Lawrence 30 years ago. It's felt good to be here creating something uplifting."
In addition to running for Stephen, many runners were inspired to take part by Baroness Doreen Lawrence's campaign for justice and the work of the Stephen Lawrence Day Foundation, which works to inspire a more equitable society and to foster opportunities for marginalised young people across the UK.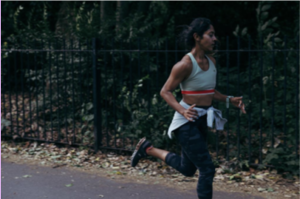 Lily O (pictured above) recounted: "Like others, I arrived with flowers, laid them down and had a moment. Sometimes words are not needed. I often think of Stephen's mother, Doreen Lawrence and the legacy she and her son have left and continue to do so for race relations in Britain. I am a newbie runner and I know how privileged I am to be able to run up and down the streets here whilst others can't easily across the globe. I don't have to navigate how I am seen, wear bright colours, or fear for my life whilst running."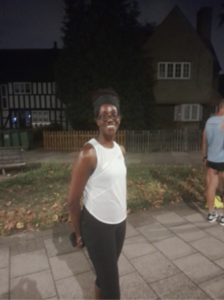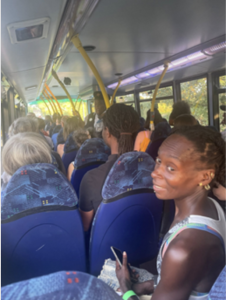 Many runners also commented on the sense of reclaiming their place in South London. Samantha C (pictured above left) reflected on how in 1995 she was living in Plumstead – the home of the Lawrence family. "That's when I made that connection to Stephen Lawrence. I never really felt that comfortable in Plumstead at that time. I didn't feel that sense of community in Plumstead". Angela A (pictured above right) also observed, "It's a way of honouring Stephen Lawrence and also the first time I've visited the area. In my mind the area is synonymous with the murder of Stephen Lawrence…In the past I would have feared coming here."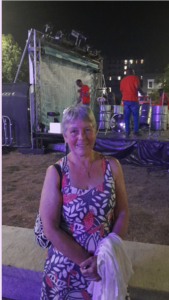 There was a palpable sense of community amongst the runners through the shared action of running and a common cause. Helen, a member of Stephen's running club who's lived in Eltham for her entire life, found inspiration in getting to run alongside "runners from different backgrounds; Black women run, Front Runners, Black trail runners." Indeed, during breaks – along with discussions about the play itself and the legacy of Stephen – there were also many running tips and competitions shared amongst the runners, not to mention opportunities to meet and maybe even join new running clubs.
Moreover, it was clear from the beginning that the act of running was more than simply a background to the play. The Architect's vision for building a more equitable future was present in chats with the Emancipated Run Crew in their aims of "creating safe spaces for black and brown communities to thrive and reach their potential" and in the goals of Black Trail Runners – to get more people into nature and overcoming barriers. In these aspirations we could see parallels with "The Architect's Dream" to create a city where, in the final words of the bus's journey (written by Mojisola Adebayo):
"The destiny 
Of our nation 
Is a destination 
Where we all arrive 
Safely home 
Where we know 
We all belong. 
YES! 
ALL CHANGE!  
ALL CHANGE! ".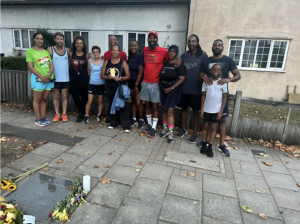 The runners were such an important part of the project. The runners' stories could, in some sense, be seen as continuations of the vignettes that took place on the bus. Lives lived both real and imagined. Many runners went on to see the show and vice versa many audience members would come back the next day or even that night to run with us.
In much the same way the runners were held in the mind of the audience, so too were other runners such as @Deoruns who was running from London to Africa and back to raise awareness of racial injustice and to remind us "Wherever you came from your origin is Africa. We are one people and we should behave to each other accordingly." In a sense, the run continues.
Many of the runners who had ran throughout the week noted that the final performance felt different. It was poignant, because it was the last time we would do so together – as a community.
I felt privileged to meet all of the runners and I am particularly thankful for the openness with which they shared their stories. I am also grateful if anyone connected to the play – as a writer, performer or audience member – now finds it easier to walk through the streets of Eltham.
"Running uphill alongside that bus was tough but worth every step". Helen, Cambridge Harrier.
The Architect was co-produced by Actors Touring Company and Greenwich+Docklands International Festival. Performances took place between 6 – 10 September 2023, as part of both GDIF 2023 and ATC's Transformation Season. Created in association with the Stephen Lawrence Day Foundation, the production was supported by Arts Council England, the Royal Borough of Greenwich, Royal Greenwich Festivals and University of Greenwich.
Photos taken by Brad Hackett & @_thebigrun_
To learn more about the running groups involved, follow them in Instagram: @_thebigrun_ @deoruns @kimbowa2016 @blacktrailrunners @runhighercollective @blackgirlsdorun @cambridgeharriersofficial @emancipatedruncrew @ashmodelive @ldnfrontrunners @goodgym